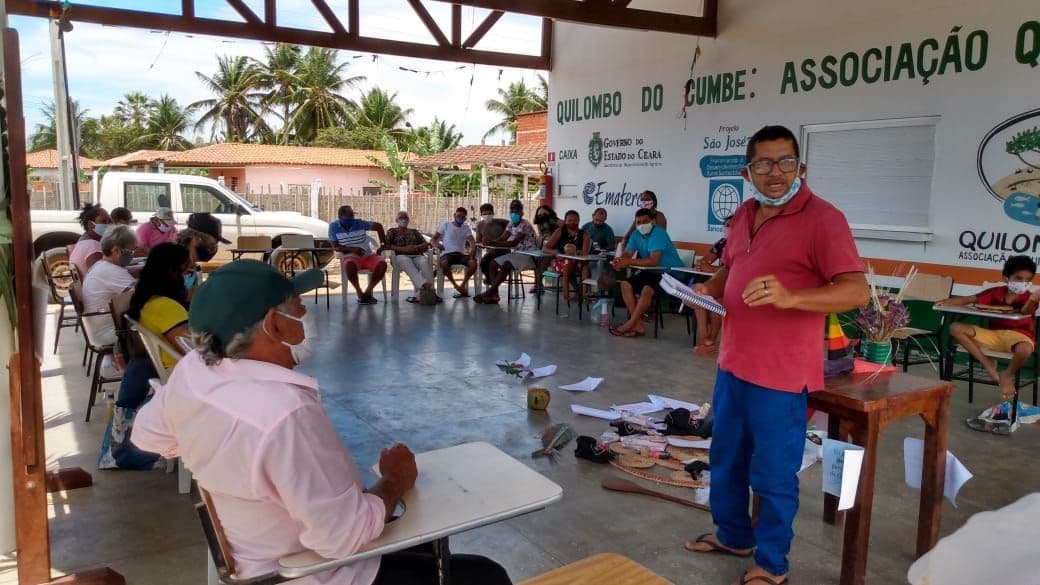 Versão em português | Versión en Español
"There was a time in which, to live, we needed to be quiet,
but now, to live, we must speak up".
(Pajé Luiz Caboclo)
Intense organizing processes of struggle and resistance against the offensive started by the colonizers over 500 years ago mark the political tracks of the Traditional Peoples and Communities from Ceará and Brazil. The diverse strategies used by indigenous peoples, quilombolas, Black people, artisanal fisherfolk, Romani people, people in outlying ghettoes, Afro-Brazilian religion practitioners, artisans, shellfishers, small farmers, and other folk from the countryside stand as proof of confrontation of the recurring trespasses against their territories by outside agents, with governmental support and funding – with the intent to promote national-developmental policy, leading to human rights violations and environmental racism. These struggles have proven that the union of people from city and country, through some experiences of cooperation against the common enemies of all, has resulted in important developments to outline a fight for territory and for political, economic, food, energy and water autonomy in Brazil and worldwide.
The confrontation carried out by these real fighters for the people, hitherto excluded from all decisions over their lives, have been met with negative repercussions at present, including criminalization, assassination of popular leaders, and environmental injustice. This requires articulation at a state, national and international level to spread visibility on the economic threats and death projects that insist in advancing against traditional communities and territories of good living (Sumac Kawsay), instilling inner conflict and dividing communities – as the colonizing white man has done for over 500 years, following the motto of divide and conquer.
For this, we, people from city and country, organized in various social movements, propose the union of our strengths, knowledges and ways of doing, so as to build the Web of Peoples from Ceará. A multicultural articulation, founded on respect for the diversity of peoples, on the defense of the autonomous demarcation and formalization of traditional territories, on the struggle for livable homes and agro-ecology; respecting the struggles for identity in city and country; elaborating affirmative public policies for contextualized education; fighting and denouncing environmental racism, which so strongly falls upon territories with Black or indigenous majority.
This invitation letter goes out to the various storied peoples of traditional territories and communities from the countryside and the outskirts of cities, inviting them to take part in the construction of the Web of Peoples from Ceará. The call is out, and we expect a positive response so that, soon, we will be in a quilombo celebrating our victory dancing grand cirandas and torés.
Ceará/Nordeste – Brasil, Abril de 2021.