By Ane Xukuru do Ororubá
This text was originally published in Brazilian Portuguese at Repórter Popular.
You can also read this text in Brazilian Portuguese and Spanish.
The Brazilian indigenous movement has been going through its most difficult times since its national projection in the 70s. We are living under endless attacks by the State and its institutions, which became the country they call Brazil, as a true indigenous killing machine. At this moment, they try at all costs to destroy those rights hard won by the elders who shed their own blood fighting for our territories. The articles 231 and 232 of the Federal Constitution from 1988 guarantee the ORIGINAL right of our communities over lands and grant us autonomy to organize ourselves according to our languages, cosmologies, traditions and cultures. That was an attempt at secular reparation for the violence carried out by the colonial state, which saw us, until 1988, as incapable subjects, in need of tutors.
Drawing on the thesis of temporal milestone, agribusiness, with the support of the bible and bullets caucus, the main pillar of support of the Bolsonaro government, tries to rewrite our previously conquered rights, such as land demarcations. That sabotages the cultural-religious and organizational autonomy of the indigenous peoples and trying to deprive even the right to self-declaration, placing under the responsibility of indigenous bodies the authority to decide who is indigenous or not. More than unconstitutional, these are direct attacks on our peoples, territories and modes of organization.
While advancing the bills currently being discussed in the Chamber of Deputies and the Supreme Court, agribusiness articulates its attacks. Through the Original Civil Action 1100 (in Brazilian Portuguese, Ação Cível Originária – ACO 1100), which settles the land dispute between the Xokleng, Kaingang and Guarani peoples and the State Government of Santa Catarina and its Environment Institute, agribusiness is trying to review the demarcation of the Ibirama Laklaño Indigenous Land. That Action was presented as an extraordinary resource that has general repercussions. Drawing on the thesis of temporal milestone, the arguments of ACO 1100 question our original right to ancestrally occupied lands, affecting 60% of indigenous lands ALREADY demarcated in Brazil, and also nullifying any possibility of new demarcations.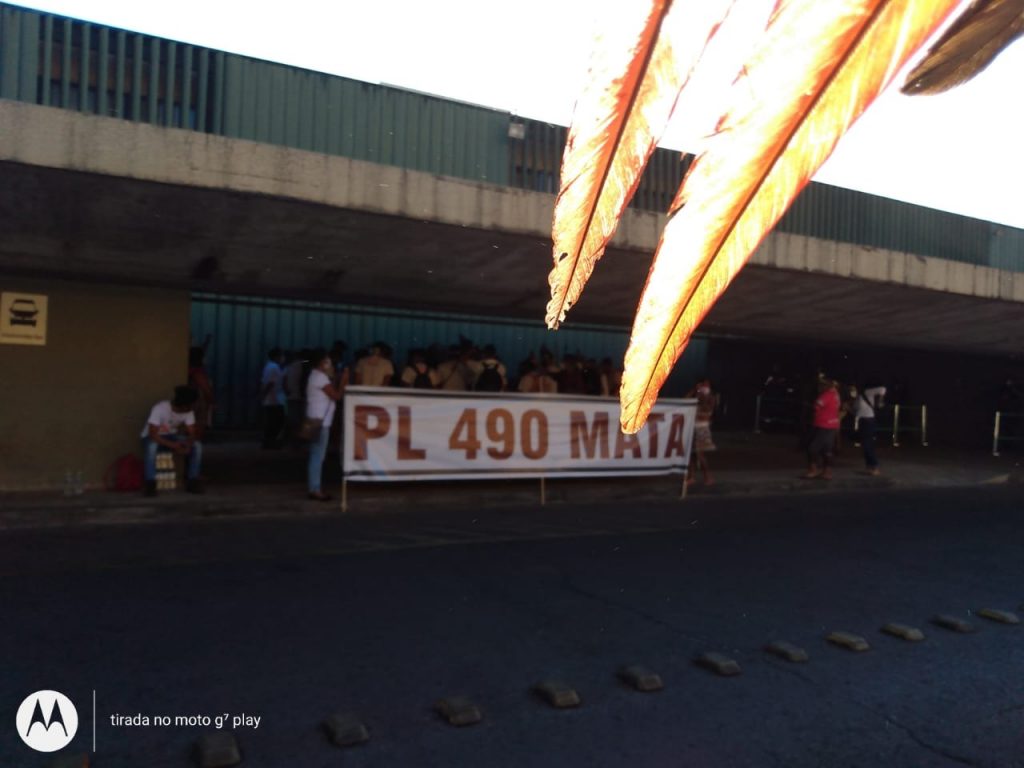 In addition to this legal instrument, agribusiness also presents the PL 490 (in Brazilian Portuguese, Projeto de Lei 490 – Bill Proposal number 490), which, among other things, allows for indigenous lands to be occupied by invaders, squatters, mining companies, miners and all sorts of people who kill indigenous people and destroy nature, similar to what happened at Brumadinho and Mariana. That bill gives them the right to explore indigenous lands without the prior consultation and consent of the peoples. Socio-political organizations of the more than 305 indigenous peoples in Brazil reject this bill. In the anti-indigenous agenda, agribusiness is also trying to remove Brazil from the status of signatory to ILO Convention 169, a document of fundamental importance that protects, in addition to original peoples, traditional peoples and our lands, customs and traditions.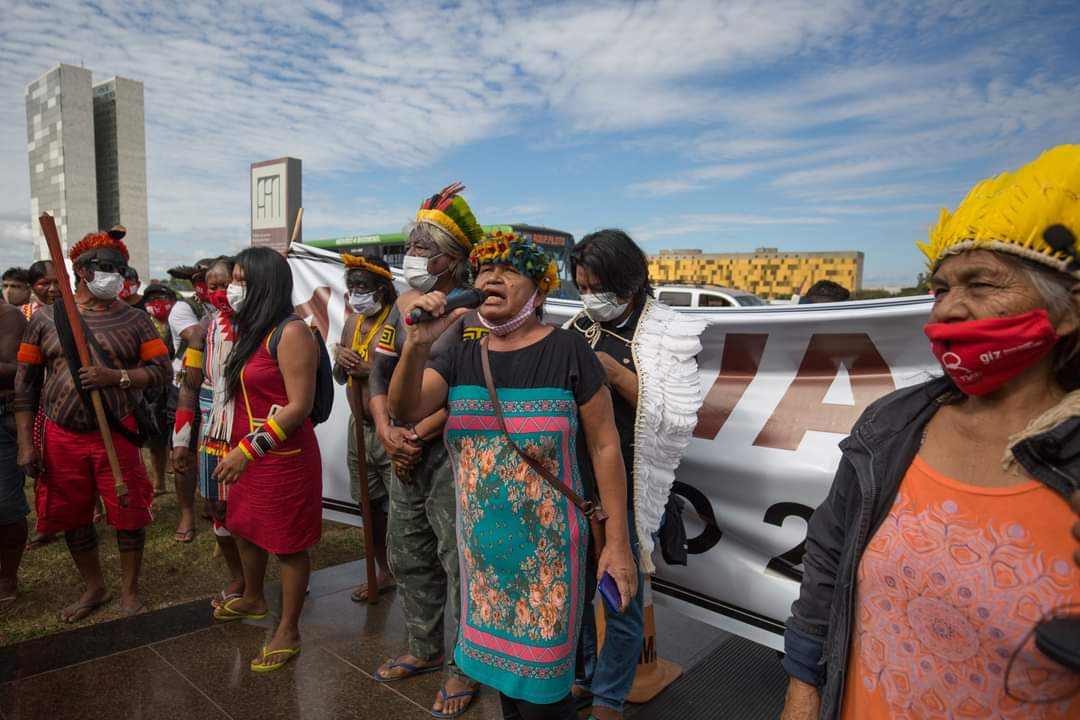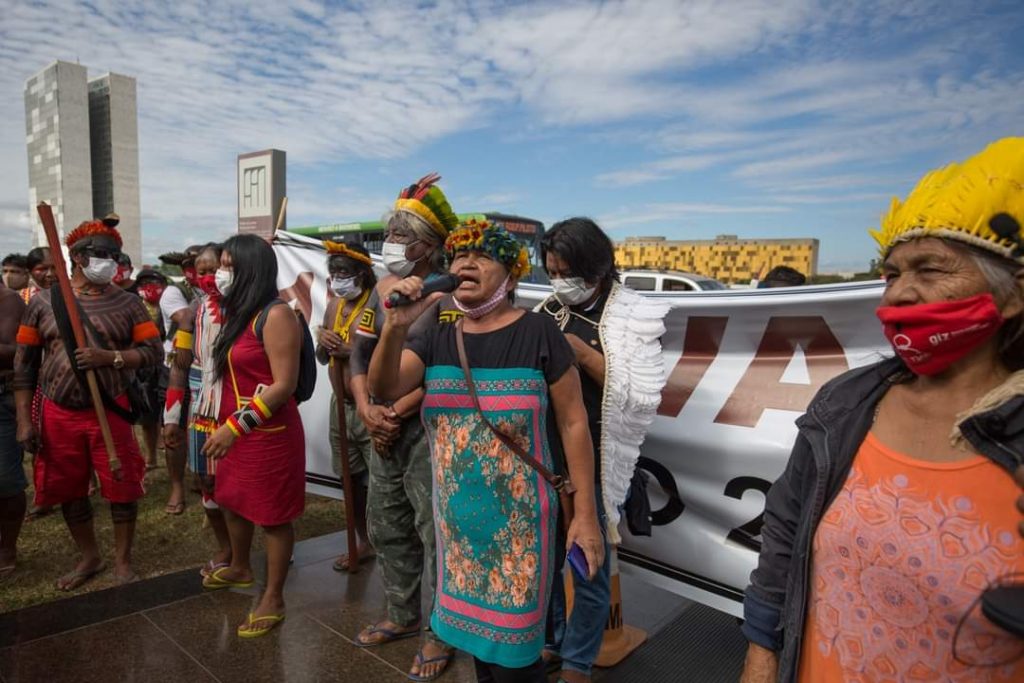 Our fight is not only ours. This is a fight for everyone who lives in this place called planet Earth, because it is the fight for life and survival of the human species, of the spirits, of the fauna, of the flora. This is not about disputes of a merely political and ideological nature, it is much more. It is a fight for life, for the right to live with dignity, autonomy. And this fight must be embraced by everyone. This is a calling for indigenous and non-indigenous peoples. It is necessary to move, to rebel, to fight. It is necessary to form alliances with the peoples, alliances with the land and territories, cultures, languages and colors. It is urgently necessary to defend life.
Please, help the indigenous movement in Brasília. Please, contribute to the Uprising for the Earth camp:
For money donations, please visit: bit.ly/levantedoe
For local donations: Praça da Cidadania, SCTN, Brasília, DF.